Roughage 'N Ready Bull Sale Nebraska
Date
Saturday, March 2, 2019  UPDATE!! This sale has been postponed to Saturday, March 30th at 1:30 pm CDT.  For more information, give us a call or send us an email.
2019 Spring Bull Sale Video Catalog
Location
Flying H Sale Site
Click here for directions
Updated Sale Day Information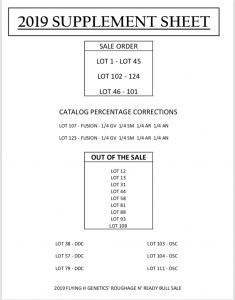 Contacts
Kyle Helms – 308-962-6940
Bryan Helms – 307-840-0920
Cody Helms – 303-842-9071
Sale Day – 308-493-5322
Grown On Grass - Missouri Spring Sale
Grown On Grass - Missouri Fall Sale
This is a preview of our video catalog, featuring our Lot 1 Bull.  Please click above to view our complete offering of sale bulls.

Saturday, October 26, 2019
1:00 pm CDT 

       
Click here to view our past sale reports
Find an upcoming sale near you to add roughage-raised cows and bulls to your ranch operation. Learn more about the breeds available online now or call Flying H Genetics today for more information.