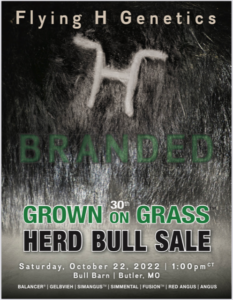 Saturday, October 22, 2022
1:00 pm CT

 
New for this sale!! "COWBOY AUCTION" FHG STYLE
• Bulls will not come through the sale ring.  They will be sold "outside" in display pens. There will be up
to 4 lots per pen. A base price for the bulls in that pen will be posted on their display pen.
• Bulls on display by 10 a.m.
• Free lunch at Noon
• "Cowboy Auction" starts at 1 p.m. pen side.
Each lot sold individually to highest bidder.
• Bids are only accepted in person or on
the phone, due to no online auction.
Location:
Flying H Bull Barn – Butler, MO
Contact
Missouri Office- 417-309-0062